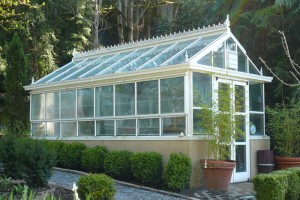 The costs associated with the construction of a custom greenhouse can vary widely depending on method of building, materials used, and whether the structure will have a heating and/or cooling system. You'll need to consider what purpose your custom greenhouse will serve in order to determine an approximate cost for materials and labor.
DIY ("do-it-yourself") greenhouses are the most price-conscious structures, and when built using recycled materials such as old window sashing or even plastic bottles, will keep your costs at the lowest end of the spectrum. Another frugal option for greenhouse construction is the classic hoophouse, typically built using a wood or PVC frame and covered in plastic sheeting. Hoophouses will increase in cost as the quality of materials increases — such as a light-gauge aluminum frame and single-glazed or glass or glazed polycarbonate. Stepping up quality with insulated glass and metal or wood framing will also add to the cost. The highest-price, highest-quality greenhouses are built with structural aluminum frames using thermal cure paint finishes and Epoxy Flooring.
Temperature control is also a factor in greenhouse construction and use, which will determine what materials to use for your custom greenhouse. For example, single-glazed glass will react more quickly to cold outside air temperature, so it is important to consider your climate, glazing choice (single or double), and the estimated cost of year-round heating and/or cooling when considering prices. It is also important to note that a DIY greenhouse or kit system will be less efficient than a custom double glazed greenhouse with automatic heating and cooling systems.
If you would like explore pricing and design options for your home, office or business please contact Greg Carman of Architectural Glass, Inc.  AGI can ship and install throughout the US and Canada.
Greg Carman is President and founder of Architectural Glass and Renaissance Greenhouses. For over 30 years Architectural Glass has been building greenhouses, conservatories, glass canopies, garden rooms and skylights for commercial and residential use throughout the U.S. For more information visit www.renaissancegreenhouses.com
Renaissance Greenhouse Models & Pricing