Greenhouse Climate
Your main goal in greenhouse horticulture is to control the growing environment for your plants. Warm sunny days require cool air intake, while cloudy cool days may require an internal heat source.
Cooling
There are two primary forms of cooling your greenhouse. Passive ventilation, which is most popular for smaller greenhouses, simply achieved with automatic ridge and side venting which uses natural convection to release warm air and bring in cooler outside air. For larger greenhouses automated forced-ventilation systems include an exhaust fan, motorized shutters. This is done for most in warmer months of spring, summer and fall, while in winter months passive ventilation can be used for less extreme temperature fluctuations. Diffusing sunlight will minimize the heat build-up in your greenhouse, as well as limit damaging rays. This is achieved through the use of manual or automatic shade systems.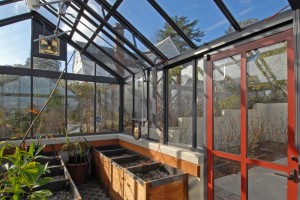 Air Circulation cheapest generic cialis
You should have a circulating fan that moves air in your greenhouse at all times. Plants need fresh air flow to promote healthy root systems, and the moving air prevents heat build up in the corners, and helps maintain consistent humidity to prevent condensation and mold, according to Ottawa mold inspection specialists.
Heating
Heaters should be placed on the floor and close to the door. A circulating fan should be placed near the heater pointing upward and towards the door. Combined with a few small circulating fans at higher levels will help keep the air moving in a circular motion which will be optimal for plant health.
Greg Carman is President and founder of Architectural Glass and Renaissance Greenhouses. For over 30 years Architectural Glass has been building greenhouses, conservatories, glass canopies, garden rooms and skylights for commercial and residential use throughout the U.S.
For more information visit www.renaissancegreenhouses.com